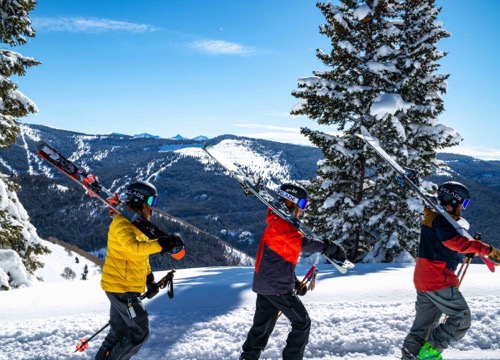 Discover the alpine wonderland of Vail, Colorado—a world-renowned resort destination offering pristine ski slopes, upscale amenities, and year-round outdoor activities, making it an ideal location for both adventure enthusiasts and those seeking luxury.
Local Interests:
- Glide down the powdery runs at Vail Ski Resort, one of the largest and most famous ski destinations in North America.
- Enjoy summer activities like mountain biking, zip-lining, and hiking in the Vail Mountain area.
- Immerse yourself in culture at the Vail Dance Festival or by exploring the local art galleries and boutique shops.
Nearby Private Airports:
- Eagle County Regional Airport (EGE)
- Aspen-Pitkin County Airport (ASE)
- Denver International Airport (DEN)
Our esteemed members can effortlessly reach Vail through nearby private airports like Eagle County Regional Airport (EGE), located just a short drive from the resort area. Upholding our 13-year legacy of never leaving a client behind, we assure your travel experience will meet the highest standards.
Need immediate assistance? Contact our dedicated team or call us at (888) 990-5357 for Private Jet Services. Additionally, our convenient easy-to-use BAJIT App is at your fingertips to book a private jet flight.
Whether you opt for private aviation for its unmatched convenience or its discreet exclusivity, our expansive network provides global access to over 7,000 aircraft through our network of over 700 safety-rated operators. Choose ONEflight International for your outstanding journeys to and from Vail, Colorado.