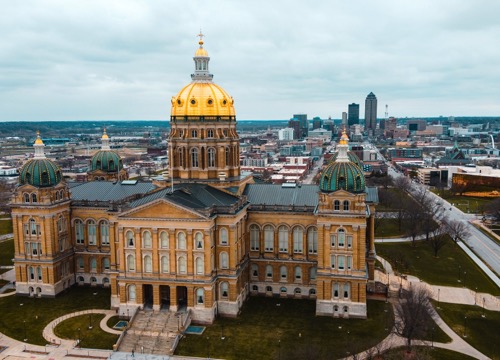 In the charming city of Des Moines, Iowa, the blend of luxury and Midwestern warmth offers an inviting experience for discerning travelers. Known for its vibrant arts scene and a rich array of culinary delights, Des Moines presents an eclectic mix of attractions.
But the city is more than just a gastronomic and cultural hub. It offers a relaxed pace of life that beautifully complements its upscale amenities. Imagine starting your day with a visit to the Des Moines Art Center, enjoying a riverside picnic lunch, and ending the evening with high-end shopping and world-class entertainment. Des Moines is a sanctuary for those who value luxury without sacrificing a sense of community.
For our private jet clients, Des Moines is easily accessible through private airports such as the Ankeny Regional Airport (IKV) and Des Moines International Airport (DSM) for private charters. With ONEflight International, convenience and choice are always guaranteed.
Curious about your aircraft options? You'll have access to a curated fleet ranging from nimble light jets like the Phenom 300 to more expansive offerings like the Gulfstream IV-SP. With a 13-year legacy of never leaving a client behind, you can anticipate a travel experience infused with reliability and unmatched quality.
Need immediate assistance? Contact our dedicated team or call us at (888) 990-5357 for Private Jet Services. Additionally, our convenient easy-to-use BAJIT App is at your fingertips to book a private jet flight.
Whether you opt for private aviation for its unmatched convenience or its discreet exclusivity, our expansive network provides global access to over 7,000 aircraft through our network of over 700 safety-rated operators. Choose ONEflight International for your outstanding journeys to and from Des Moines, Iowa.