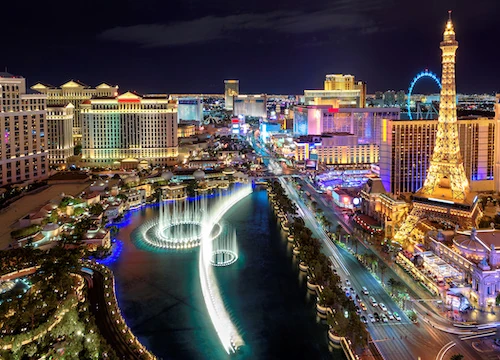 Experience Las Vegas, Nevada, the entertainment capital of the world, where luxury meets excitement. Beyond the iconic Strip and its high-stakes games, explore world-class dining, awe-inspiring shows, and a vibrant nightlife that never stops.
Nearby Private Airports:
- McCarran International Airport (LAS)
- Henderson Executive Airport (HND)
- North Las Vegas Airport (VGT)
Our members gain easy access to Las Vegas through these strategically located airports, upholding our 13-year legacy of dependable and top-notch service.
Need immediate assistance? Contact our dedicated team or call us at (888) 990-5357 for Private Jet Services. Additionally, our convenient easy-to-use BAJIT App is at your fingertips to book a private jet flight.
Whether you opt for private aviation for its unmatched convenience or its discreet exclusivity, our expansive network provides global access to over 7,000 aircraft through our network of over 700 safety-rated operators. Choose ONEflight International for your outstanding journeys to and from the pulsating city of Las Vegas, Nevada.